I'm not much into doing LOTD, but ever so often (about once a week LOL), I see something on the grid that inspires me to a)run and buy it and b)take pictures of it and c)post it on my blog.
A notecard from Malt Fashions dropped on me a short while ago, and I immediately had to TP over and snag a new shirt and pair of slacks.
Yes, I'll figure out how to post SLurls sometime this century, but most of the stores I frequent are easy to locate in search.
Being obsessed with purple and all its various hues and fond of any clothing item which demonstrates SWISH, I had to have the new Allyn shirt in Lavender Field. Here I'm modeling (well, wearing...I'm no model) the long-sleeved version, but the shirt comes with a short sleeve option as well. It can be worn with or without the sculpty bottom portion (which also has a cute little transparent area to show off a sexy tummy). It's 285L for a single color and 1995L for the fat pack of 9 colors: Snow White, Liquorice Twist, Forbidden Apple, Sticky Toffee, Morning Breeze, Kiwi Crush, Misty Grey, Lavender Field & Pink Passion.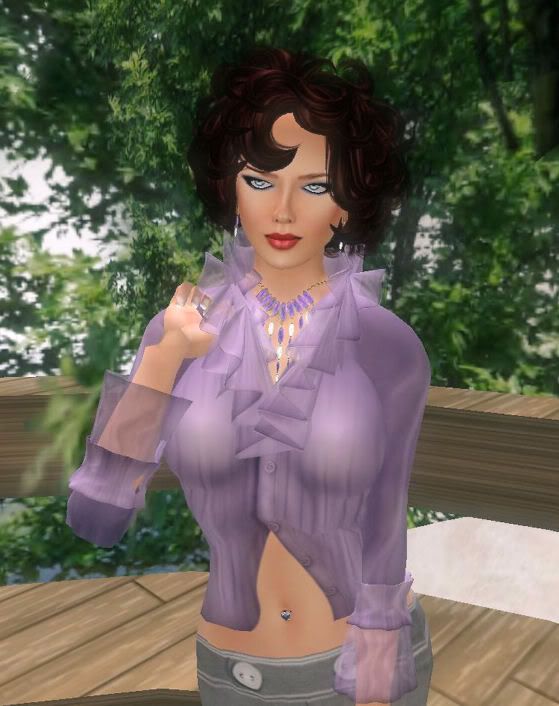 The Willow Pants come in 7 shades: Silver, Raven, Navy, Smoke, Evergreen, Chocolate & Straw. I paired the silver pants with the Allyn top. The pants are 250L each (I forget what the fat pack costs..bad blogger).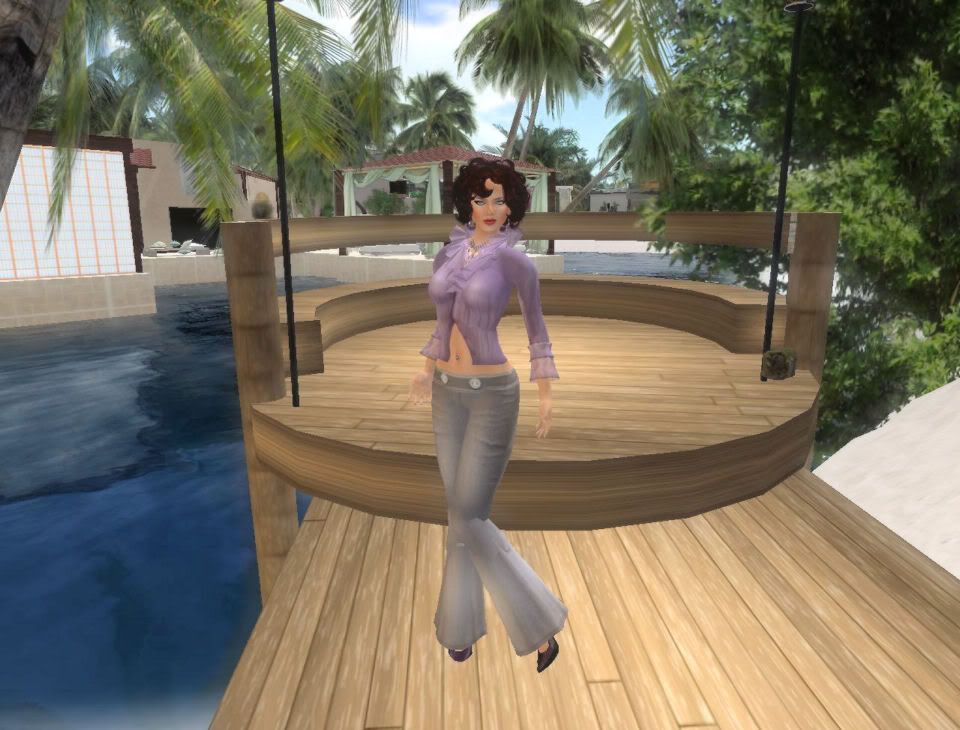 Other great finds:
Hair: Evie in burgundy by Truth
Shoes: Janie Heels by Dilly Dolls (gotta love color change shoes)
Jewelry: The Blue Pearl Amethyst Drops (if you went to the recent jewelry fair you likely spotted this small booth full of gorgeous creations at ridiculously low prices. Everything 20L or less! The creator is Pheonix Piek, so search for her and her store is listed in her profile picks).
Skin: Kimberly Pale in Abyss from Free Speerit.
I'm going to wait a few days for the furor to die down at the skin and shape fair before I pay it a visit. I can't afford to purchase a large number of them, and I wouldn't inflict pics of me in demo skins on the 3 readers I have. Well, I might inflict them on Marnix since I did it to him in person last night. ;)
Monday is officially 15 minutes old. *sobs*
Lysi